Sourdough Bread Starter Day 2 by Cindy Ward
All Credits go to Cindy Ward

Sourdough Starter – Day 2
You can find day 1 of the sourdough bread starter mix directions here if you are joining us late.
It's 24 hours later and time to "feed" your starter. Mine has a layer of "hooch" on top which is an indication that your starter is "hungry". I want to tell you that every starter is gonna be slightly different and if yours looks slightly different than mine, that's fine…keep going! Yours may or may not have that layer of liquid and you should continue with Day 2 steps either way.
1. Stir your starter a bit. Whether you have liquid on top or not, stir it like it does and you're trying to stir the water back in.

2. Pour off 1/2 your starter. This step confuses a lot of people but it is necessary. Just pour off 1/2 and discard. It doesn't have to be exact…if you discard a little more or a little less than 1/2, you're good.

3. Add 1 cup flour and 1 cup water and stir it well, incorporating all the new flour and water into the 1/2 of the starter remaining in the jar.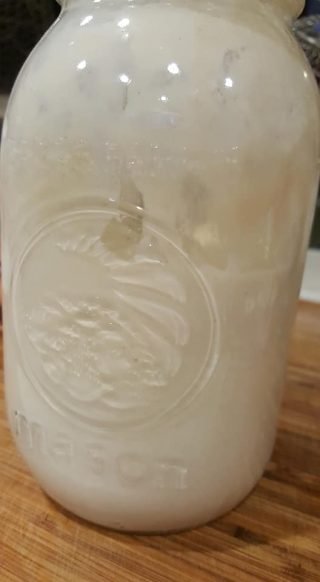 4. Cover with tea towel and leave on your counter for 24 hours.
That's it…Day 2 is done and we'll come back tomorrow for Day 3.
I would love to see pics of your starter as we go along! Leave your pictures in the comments.