Appalachian Brown Sugar Crunch Cake
2021-12-10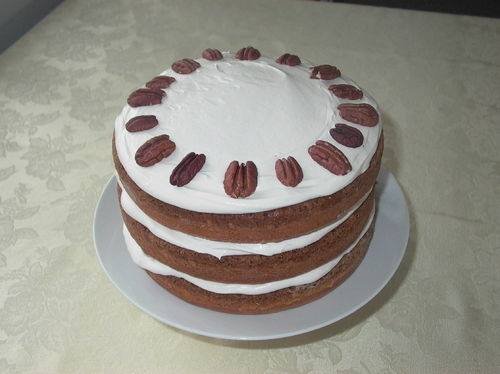 Average Member Rating
(0 / 5)
0 People rated this recipe
Brown Sugar Crunch Torte or the Appalachian Brown Sugar Crunch Cake as we call it.
1 ½ cups chopped pecans
1 ½ cups crushed vanilla wafers
(about 38 cookies)
1 cup packed brown sugar
1 cup (2 sticks) butter, melted
Yellow cake mix
1 ½ cups whipping cream
3 tablespoons granulated sugar
1 teaspoon vanilla
bottoms of 3 round pans, 9×1½". Stir together pecans, crushed
cookies, brown sugar and butter. Spread about ¾ cup mixture in
each pan; reserve remaining mixture. Make cake as directed on
package. Pour about 1 ¼ cups batter over mixture in each pan
2. Bake about 20 minutes or until tops spring back when touched lightly.
Immediately remove from pans to wire rack and peel off paper.
Cool completely.
3. Beat whipping cream, granulated sugar and vanilla in chilled large
bowl with electric mixer on high speed until stiff. Place l layer, walnut
side up, on serving plate; spread with about ¾ cup of the whipped
cream. Repeat with remaining layers and whipped cream. Or place
whipped cream for top layer in decorating bag fitted with star tip. Pipe
rosettes in center of cake. Cover and refrigerate.
Notes: Cookies are easily crushed in food processor, or by placing in
zip-lock plastic bag and smashing with a rolling pin or meat mallet (just
think about that idiot that cut you off in traffic). Any cake mix
can be used (or if you're a glutton for punishment-your favorite
from-scratch recipe). You can also use walnuts instead of pecans.
If this is going to be made ahead and held, I use Cool Whip instead of
the whipped cream topping-the taste isn't as yummy, but it's more stable.
A variation is to use a chocolate cake mix instead of yellow, and walnuts
instead of pecans.
Ingredients
No Ingredients Found !
Method