Fried Boneless Chicken Thighs
2020-02-28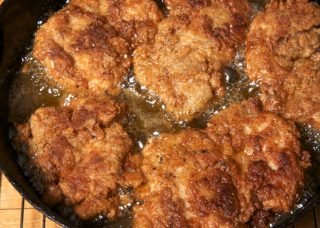 Servings:

8

Prep Time:

15m

Cook Time:

25m

Ready In:

40m
Average Member Rating
(4 / 5)
2 People rated this recipe
Boneless chicken is a favorite of mine. There are many different recipes for fried chicken out there. This one happens to be one of my favorite fried chicken breading to date. It is an older style using the Special K cereal but pretty common in some parts. The idea of making boneless fried chicken thighs is even better since the thigh is my favorite part of the chicken.
Ingredients
12 boneless chicken thighs
Vegetable oil for frying
- Coating:
1 cup all-purpose flour
3 eggs beaten with a splash of water
1/2 cup corn meal
1/2 cup all-purpose flour
1/2 cup crushed Special K cereal
- Seasonings to Taste:
1/4 teaspoon Paprika
1/4 teaspoon black pepper
1/4 teaspoon curry powder
1/4 teaspoon ground cumin
Method
Step 1
Set up three shallow bowls; one for the all-purpose flour, one for the beaten eggs and one for the combination of the flour, corn-meal and crushed Special K Cereal.
Step 2
Add the seasonings to the bowl with the combination of the flour, corn-meal and Special K cereal.
Step 3
Dip the chicken first in the flour, then the egg wash and finally in the bowl with the mixture of flour, cornmeal and Special K.
Step 4
Heat a large frying pan with about ¾ inch of vegetable oil and carefully add the prepared chicken thighs to the hot oil. Do Not over-crowd the pan. When the thighs are crispy on one side carefully turn over to finish cooking.
Step 5
Set cooked thighs on a plate with paper towels to absorb any excess oil.