Chicken and Dumplings Recipe
2020-03-10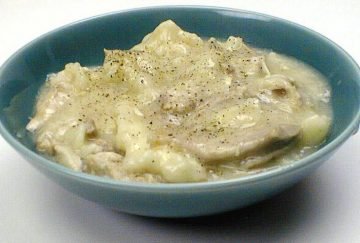 Average Member Rating
(5 / 5)
1 People rated this recipe
When the chickin and dumplings recipe comes up it brings a warm comforting meal to the table. With this recipe the Dumplings need to be made the day before. And plan to make a double batch if your family is a hungry for them as mine.
Ingredients
Dumplings:
1/2 - 1 teaspoons of Oregano
pinch Thyme
Salt & Pepper
Chicken Stock, enough to bind well
2 cups flour
SOUP:
4 Tablespoons Butter
2-3 carrots, cut up
1-2 celeray stalks, cut up
1-2 onions, cut up
1/4 - 1/2 cup flour
3-4 cups chicken stock
1/2 - 1 cup heavy whipping cream
salt, to taste
pepper, to taste
Chicken (Rotisserie from the local store works well)
Method
Step 1
DUMPLINGS: Mix dry ingredients, add enough stock to bind. It should still be a bit sticky.
Step 2
Roll out on floured surface, cut into strips, place on cookie sheet or plate and freeze overnight.
Step 3
Next day break off chunks of the frozen dough strips and boil in pot for 30-45 minutes.
Step 4
SOUP: Start melting butter in large pot over, medium high heat.
Step 5
Add carrots, celery and onion.
Step 6
Add flour and make rue.
Step 7
Add chicken stock, mix.
Step 8
Add cream, mix.
Step 9
Slow simmer for 20-30 minutes.
Step 10
Add Dumplings, then and Chicken.