Ham and Broccoli Ring
2020-02-18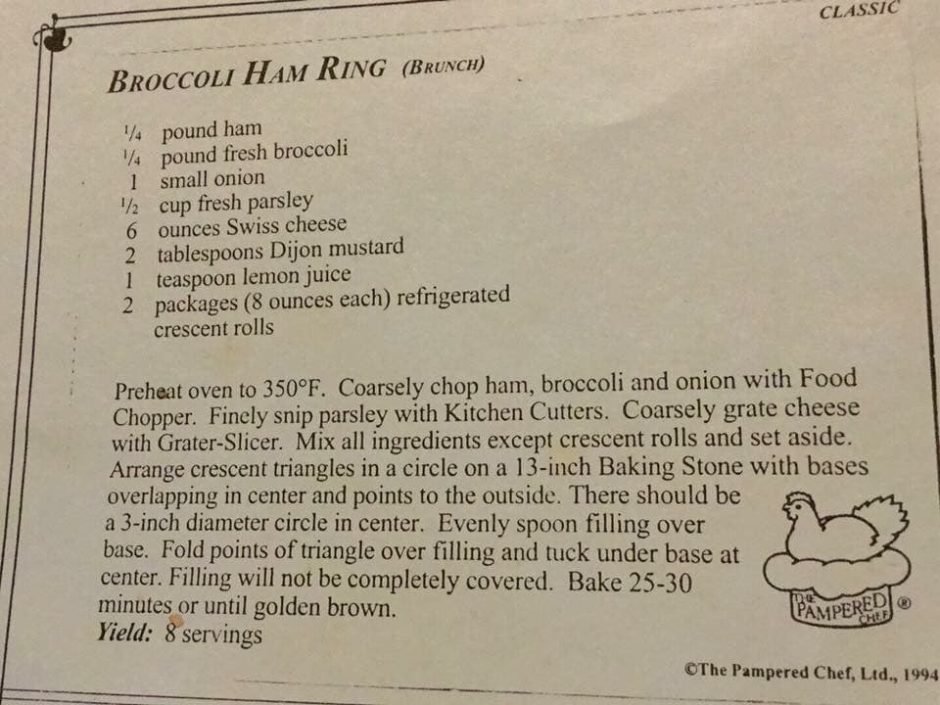 Average Member Rating
(5 / 5)
3 People rated this recipe
This ham and broccoli ring is a great way to use up ham that is leftover from Sunday dinner. You can also make it with deli sliced lunch meat if you get a hankering for it and have no leftovers. This meal was enjoyed by everyone, even the toddlers. It's a good family meal if you are stuck in a rut and wanting something different.
Ingredients
1/4 pound ham
1/4 pound fresh broccoli
1 onion
1/2 cup fresh parsley or 2 TBSP Dried
6 ounces Swiss cheese
2 TBSP Dijon mustard
1 tsp lemon juice
2 rolls unbaked crescent rolls
Method
Step 1
Preheat oven to 350 degrees
Step 2
Finely chop the ham, broccoli and onion together.
Step 3
Finely chop parsley
Step 4
Grate cheese
Step 5
Mix everything except crescent rolls together and set aside.
Step 6
Using a Pampered Chef stone is recommended for this step: Unwrap crescent rolls and arrange in a circle with wide part of triangle in center, overlapping corners where needed to form a 3 inch circle in the center and skinny points to the outside.
Step 7
Spoon the rest of the ingredients onto the crescent roll base.
Step 8
Fold the skinny points of the crescent rolls to the center and tuck under the bottom in the center hole. There will be some filling that isn't covered by the crescent rolls and that is normal.
Step 9
Bake in 350 degree oven for 25-30 minutes or until completely golden brown.