Homemade Pizza Steak Sandwich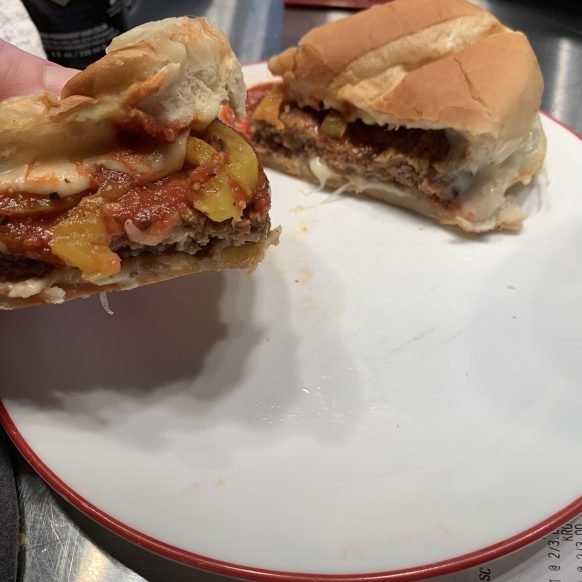 These homemade pizza steak sandwiches will keep you from wanting to order out! This is such a good sandwich and super simple to make. The only thing you might have to buy special is the hoagie buns. If you make your own bread, even better, just shape them into a torpedo and slice in half to make this.
This sandwich does use 2 kinds of cheese, provolone and mozzarella, but I always try to have these items on hand. Blocks of mozzarella and slices of provolone are a necessity around here. Try my homemade pizza sauce from a 25 cent can of tomato sauce and a few seasonings. You can purchase a store bought sauce if you'd like.
Here is Where the Magic Happens
The actual pizza "steak" is actually a mixture of hamburger, egg and crushed crackers to bind it all together. Just as if you were making a meatloaf but you don't have to put in any thing else.
Hamburger – Egg – Crackers
I like to use a fancy cracker instead of saltines but they work just fine too.
Shape your meat mixture into a patty that will fit your hoagie bun once it shrinks a bit. Put in the oven at 350 for 35 minutes. During the last 10-15 minutes of cooking time you can assemble the buns with cheese and add the sauce and banana peppers to your steak patties. The sauce and peppers will warm as the patties continue to cook.
Place the buns with cheese on both sides into the oven open faced so the cheese melts and the buns toast.
Assemble the steak patties and the cheesy buns and cut in half to eat.
Let me know what you think if you give this a try. I'd love to hear any improvements or changes that you make to this homemade pizza steak sandwich recipe.