Appalachian Hush Puppies
2020-03-02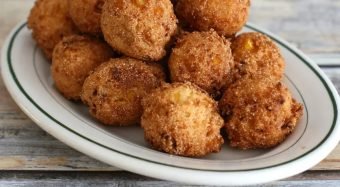 Average Member Rating
(5 / 5)
2 People rated this recipe
This is an easy recipe to make for just about anyone who wants to give it a try. Some recipes call for cream style corn. Mine calls for pancake mix instead. My kids love them and so do I. These have a slightly different texture but you are sure to be awarded by the extra flavor.
Ingredients
2 cups cornmeal
1/2 cup pancake mix
2 & 1/2 teaspoons sugar
1 teaspoon baking powder
1 teaspoon salt
1 egg
1 cup buttermilk
1 tablespoons vegetable oil
3 jalapeno peppers,seeded and finely chopped (optional)
1/2 cup finely chopped onion
1/8 to 1/4 teaspoon hot pepper sauce (optional)
Oil for deep-fat frying
Method
Step 1
In a bowl, combine the cornmeal, pancake mix, sugar, baking powder and salt.
Step 2
In another bowl,beat the egg, buttermilk, oil jalapenos, onion and hot pepper sauce. Stir into dry ingredients just until combined.
Step 3
In an electric skillet or deep-fat fryer, heat oil to 375 degrees.
Step 4
Drop batter by rounded tablespoonfuls into oil. Fry for 3 - 4 minutes until golden brown. Drain on paper towels.Serve warm.