Easy peel mashed potatoes
2020-02-28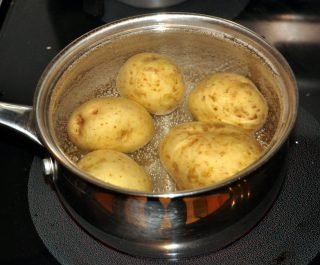 Yield:

4 cups

Servings:

6

Prep Time:

5m

Cook Time:

45m

Ready In:

50m
Average Member Rating
(0 / 5)
0 People rated this recipe
Sometimes I find it time consuming to peel potatoes before I cook them. So one day, I just washed them and threw the whole potatoes in some cold water. Let them boil until they were fork tender. Then I let them cool and took a fork and scraped the peeling right off!  A spoon works great also! It's so much faster than peeling them beforehand! I've done it that way ever since! Give it a try! 
Ingredients
6 to 8 russett potatoes
3 tablespoons of real butter
1/4 cup sour cream
Salt and pepper to taste
Couple of splashes of Milk
Method
Step 1
Wash your potatoes in cold water. Add them to the pot, cover in cold water. Boil until fork tender. Drain from hot water and rinse with cold water. Let them cool until you can handle them. Take a fork/ spoon and scrape the peeling off. Do not rinse. Add bake to your pot and add milk, butter, sour cream and salt and pepper to taste.