Cajun Crab & Bacon Quiche w/ smoked Gouda
2020-03-19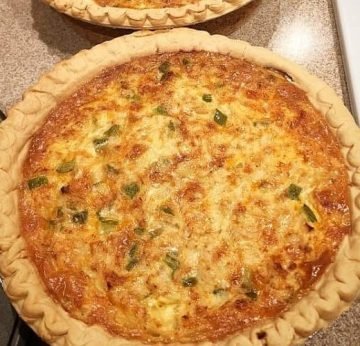 Average Member Rating
(5 / 5)
2 People rated this recipe
Copyright, Chef JaBonn Bond 2020
Ingredients
1 9-inch pie crust
1 ½ cups shredded smoked Gouda cheese
6-8 slices of cooked and crumbled bacon
½ cup chopped crabmeat
¼ cup finely chopped onion
6 large eggs
1 ½ cups heavy cream
1 tbs. Old Bay seasoning
1 tsp. black pepper
½ tsp. kosher salt
1 clove garlic, minced
½ tsp. crushed red pepper flakes
Method
Step 1
Preheat oven to 375 degrees.
Step 2
Place pastry shell in a 9-inch pie pan (or use thawed, store-bought pie crust already in pan). Place pastry pan on foil-covered baking sheet.
Step 3
Beat the eggs with a whisk until smooth and creamy. Add heavy cream and continue beating until well blended. Add garlic and all seasonings, and beat to incorporate.
Step 4
Layer the cheese, crab, bacon, and onions in the pastry crust, beginning and ending with cheese. Carefully pour the egg and cream mixture over the pastry shell.
Step 5
Bake for 45 minutes or until center is still a little bit jiggly but not runny. Knife inserted in center should come out almost clean. Allow to cool for 10 minutes before Cutting.